PEM-1000 ASSEMBLY
Korima's fully integrated workstation
for emission microscopy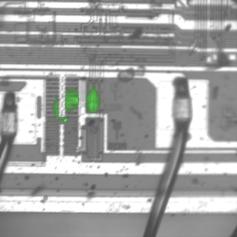 PEM-1000
High Resolution Image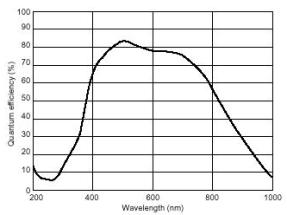 Typical Camera Spectral Response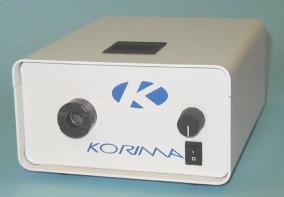 Broad Spectgrum
(400-1500mm)
Extended Range Illumination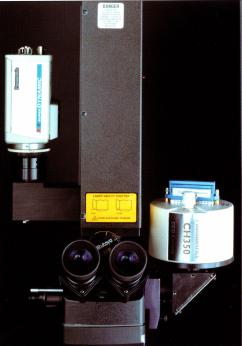 PEM-1000
Powerful, Fully Integrated Workstation
for Emission Microscopy
The PEM-1000 emission microscope incorporates the latest technology in real time, high quantum efficiency, mega-pixel CCD detectors in a back-thinned cooled camera. A portable system, the PEM 1000 can interface with all analytical probe stations, ATE (automated test equipment) and bench top configurations for high speed functional testing.

The compact and lightweight modular design allows unlimited configurations for both packaged device and wafer level testing for front and backside emission microscopy applications.
Photo Emission Detection
An extensive range of photon emitting defects can be easily detected and analyzed with PEM 1000 emission microscopes.
Forward Biased Junctions
Avalanched Junctions
Electrical Overstress — EOS
Junction Leakage
Oxide Leakage
Latch-up
Saturated Transistors
Hot Electrons
Electrostatic Discharge — ESD
Highly Sensitive Microscope with NIR Objectives
Provides manual slide prism out of optical path for increased microscope sensitivity, with a wide range of objective lenses. 2X, 5X, 20X, 50X, and 100X magnification are available.
Camera Specifications and Features
The PEM 1000's back-thinned, CCD-cooled digital camera provides low-noise, high-resolution NIR images.
Very high resolution format (1024 x 1024 pixels)
High Quantum Efficiency
Broad spectrum (UV to NIR)
Very large full well capacity (80,000 electrons typ.)
Low readout noise design (6 electrons r.m.s. typ.)
Analog contrast enhancement
Flexible Configuration for Analytical Tasks
Bench top, stand-alone
Easily adapted to any probe station
Easily mounted to tester
Convenient and easy-to-use "Dark Shroud" provides an instant and mobile darkroom
Synchro-coupler (to eliminate image jitters
Software
Korima's PhotonView is incorporated into the PEM1000 Emission Microscopes provides the utmost ease of use for the FA engineer for device positioning, emission detection, and data management.
Focus Mode provides fast image update for easy device positioning and focusing
Comprehensive software controlled pixel binning or automatic gain control provides superior sensitivity for emission defections
An integrated noise reduction algorithm and "Cosmic-Cancellation Adjustment" eliminates potentially "false" emission sites
Overlay emission(s) and DUT images on one color channel corrected image for optimal display.
Progressive Mode function allows images to be taken in user-specified time increments, storing the last eight images taken prior to the user ending the function. It provides sequential images, allowing easy preview and selection, and is suitable for latch-up review
Image enhancement functions such as digital zoom, annotations, filters, and background color selection allow quick display optimization.
An exclusive range of image archiving file (or session) output options allow easy importation of images into desktop publishing programs for report generation.
System Specifications
Available as a standalone unit or in an upgrade kit, the Korima PEM-1000 series combines an exclusive laser marking system with state-of-the-art computer image processing and night vision technologies.
On the PEM-1000 screen, photons emitted from defect locations appear as bright spots, superimposed on the D.U.T. image at the same magnification.
The image can be observed directly from the screen, or recorded to create a continuous action record. Pictures can also be stored on disk for further analysis in common image formats, such as TIF, BMP, and others.
Options:
Long working distance microscope and lenses
Narrow band-pass filter
CCD Camera
Laser Marking System (below) for use in secondary tools such as FIBs and SEMS
Motorized Turret (MT-405)
Objective lenses: 5X, 10X, 50X, 100X (all NR class).
Color printer
Click here to view PEM-1000 sample configurations.
Click here to download PEM-1000 product information.
---
Korima, Inc.
119 Star of India Lane
Carson, CA 90746

Voice: (310) 532-2222
E-mail: Info@Korimainc.com