LCD-4400M
LCD Module Repair System
• Large-Size LCD Module Repair
• Small Footprint
• Motorized Joystick Control X-Y-Z
• Laser Cutting and Welding
• Rigid, Heavy Duty Gantry Systems
• Back Light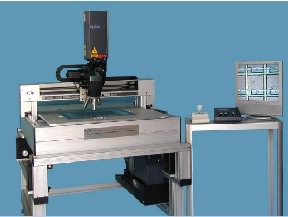 The LCD 4400M is a precision instrument designed to repair large size LCD modules. Featuring light weight, state of the art technology, the LCD4400 focuses a Nd:NAG laser directly through a microscope objective.

Heavy aluminum casting X‐Y gantry provides vibration-free micron movement with 3-speed joystick control.
X‐Y‐Z motors, laser energy, X‐Y aperture, fire laser all remote control far from the system.

Air damper provides vibration isolation for small geometry cutting.

SPECIFICATIONS
Motorized Gantry System
Travel X-Y-Z: 61" x 35" x 2"
Resolution: 1 micron
Joystick Control Speeds: Low - Medium - High (Selectable)
Substrate Holder: 65" x 65"
Back Light
Laser Systems
Laser: Nd:YAG
Pulse Width: 6 nano-second
Energy: .6 mJ
Cutting Size:
20X Objective: 120 x 120 micron max.; 5 x 5 mincron min.
50X Objective: : 50 x 50 micron max.; 1.4 x 1.4 mincron min.
Cooling: Ambient Air
Motorized Turret
Facility Requirement
System Dimension: 70" x 70" x 59"
Weight: 550 pounds
Power Requirement: 117/120 VAC; 50/60 Hz; Single Phase, 15 Amp.
Click here to download LCD-4400M product information.
---
Korima, Inc.
119 Star of India Lane
Carson, CA 90746

Voice: (310) 532-2222
E-mail: Info@Korimainc.com